App Developed at UMD Rewards Users for Smart Travel Choices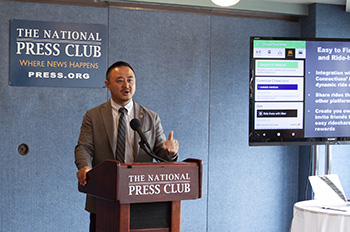 The Metropolitan Washington Council of Governments (MWCOG), National Capital Region Transportation Planning Board (TPB), and the Commuter Connections Program have officially launched a new traveler incentive app developed at the University of Maryland's Maryland Transportation Institute (MTI).
The launch took place on Wednesday (August 28) at the National Press Club in Washington D.C.
The app, incenTrip, provides monetary and non-monetary incentives to improve commuter trips and reduce traffic congestion, energy use, and emissions. It not only recommends alternative departure times and travel routes, but provides personalized travel rewards points when users opt for greener mode choices such as carpooling, mass transit, walking, or biking.
Combining artificial intelligence of individual user preference with real-time prediction of transportation system dynamics, incenTrip learns its users' travel patterns, allowing it to make individually-tailored recommendations. Together, incenTrip's features add up to a powerful, cost-effective way to influence travel behavior, says Herbert Rabin Distinguished Professor Lei Zhang, MTI's director.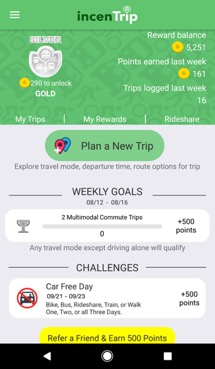 UMD researchers affiliated with MTI—an interdisciplinary hub for transportation research across Maryland universities—developed the app with funding from the U.S. Department of Energy's Advanced Research Projects Agency-Energy (ARPA-E), and in partnership with Commuter Connections and state departments of transportation in DC, Maryland, and Virginia. Support for the travel incentive program is being provided by MWCOG, TPB, and Commuter Connections together with their state transportation department partners.
Zhang says the goal is to provide an effective tool to incentivize behavior changes. "If we can nudge just a small percentage of travelers to use alternative modes of transportation, change their travel time, and make smarter routing/driving choices, we can accomplish significant system-level benefits," he explained.
Indeed, the data shows that small changes in travel patterns can have an outsized impact on congestion—as demonstrated by Pope Francis's 2015 visit to Washington, D.C. As reported by The Washington Post, for example, a 2% reduction travel demand during the Pope's visit led to a 27% drop in peak period congestion.
incenTrip "constantly seeks to improve the travel experience without requiring users to do the heavy lifting in searching for better options," said Transportation Planning Board Chairman and Prince William County Supervisor Martin Nohe, who spoke at the launch event. Established habits can be hard to break. Nohe said, but the rewards baked into incenTrip can provide the extra impetus needed to make changes.
That can mean a smoother individual travel experience as well as the potential to thin out rush hour congestion. The environmental benefits are significant, too, since idling cars spew out more emissions than when travelling at a constant speed, Nohe said.
Other speakers at the event include Kelly Russell, vice chairwoman of the Transportation Planning Board and alderwoman of the City of Frederick, and Jack McDougle, president and CEO of the Greater Washington Board of Trade. ARPA-E Deputy Director for Technology Patrick McGrath also attended the event as the ARPA-E leadership representative.
"The next step for incenTrip is to "scale up and assist more states, cities, and employers to promote smarter and greener travel choices by leveraging the latest big data, artificial intelligence, and computing technologies in incenTrip," Zhang said. "We want to work closely with our existing and new government agency partners and private-sector employers to expand the incentive program, so we can together make a bigger impact in relieving congestion and reducing energy use and emissions."
incenTrip is available on Google Play and the Apple App Store. For more information, contact requests-mti@umd.edu.
Published September 6, 2019