UMD Hosts Advanced Transportation Technologies Day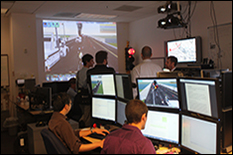 On Thursday, Aug. 28, the A. James Clark School of Engineering hosted its first-ever Advanced Transportation Technologies Day event, during which nearly 40 representatives from government, industry, academe and media toured the University of Maryland's transportation engineering laboratories.
The open-house event welcomed visitors to the Center for Advanced Transportation Technology (CATT) Laboratory, Traffic Safety & Operations Laboratory, National Transportation Center at Maryland and even the Metropolitan Area Transportation Operations Coordination (MATOC), located off-campus.
In line with the hectic Labor Day travel weekend, CATT Lab issued a traffic outlook based on the lab's archived data and trend mapping capabilities. Even more, the lab cautioned area travelers of the three worst bottlenecks likely to occur over the weekend and indicated the best times to travel into and out of the Washington, D.C. area.
Just next door to the CATT Lab, visitors toured the Traffic Safety & Operations Laboratory, where they learned about current efforts underway to improve local traffic safety and mitigate congestion in main commuting corridors. Along with Professor Gang-Len Chang, this team of UMD researchers tackled timely topics such as Eastern Shore travel and evacuation routes and incident response for Maryland's Coordinated Highways Action Response Team.
From there, visitors learned about the National Transportation Center at Maryland, and heard from a number of Department of Civil and Environmental Engineering faculty members how transportation engineering relates to topics such as economics, disaster resilience, sustainable development and emergency preparedness.
"The impact of highway investment on employment varies across industrial sectors," explained Professor Lei Zhang, Director of the National Transportation Center at Maryland. "Overall, doubling current transportation assets and capacity would create 15 million jobs in the long run. And, employment in 12 of the 23 industrial sectors would increase in response to highway investment. The four sectors – retail trade, construction, manufacturing and accommodation services – account for about 30 percent of the total employment, while they capture about 60 percent of the benefits from highway investment."
After learning about each of the Clark School's three transportation engineering labs, visitors traveled off-campus to visit MATOC, a coordinated partnership between transportation agencies in D.C., Maryland and Virginia, that aims to improve safety and mobility in the region through information sharing, planning and coordination. Touring MATOC provided visitors with an additional perspective of how transportation planning, engineering, and coordination come together in real-time, to impact everyday life for millions throughout the region.
View NBC Washington's and WTOP's coverage of the CATT Lab's Labor Day weekend traffic outlook.
Published August 29, 2014