Eirini Kastrouni wins ARTBA's Future Industry Spotlight Award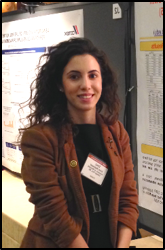 Eirini Kastrouni has been selected as a winner for ARTBA's Women Leaders in Transportation Design & Construction Council's Future Industry Spotlight Award for her outstanding effort and contribution to the transportation construction industry. The award is given annually to bring national industry attention to two women students enrolled in undergraduate or graduate studies at a U.S. college or university who have thus far achieved an outstanding academic record and demonstrated extraordinary leadership skills within and outside the academic environment.
Ms. Kastrouni will be recognized as an award winner at a special Awards Luncheon in conjunction with ARTBA's National Convention in early September 2014, in Rancho Palos Verdes, California.
Ms. Kastrouni is a 2nd year PhD student working with Dr. Lei Zhang with research funding support from the National Transportation Center @ Maryland. Originally from Athens, Greece, Ms. Kastrouni received her Diploma in Civil Engineering from the National Technical University of Athens, Greece in 2010, and a Master of Science in Civil Engineering from Iowa State University in 2012. Her research interests lie in the area of transportation economics, with a focus on the effect of transportation infrastructure investment on economic growth, and on equitable revenue generation mechanisms for the surface transportation system.
Published August 29, 2014