Microtransit Is Convenient, But Does It Benefit the Environment?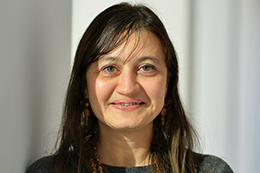 Maryland Transportation Institute (MTI) interim director Cinzia Cirillo is among several experts quoted in a feature story published recently in POLITICO's Energy and Environment News.
In the feature, journalist Minho Kim asked several transportation researchers, including Cirillo, to weigh in on the impact of on-demand ridesharing programs—dubbed "microtransit"—that are being instituted by a growing number of municipalities in the United States, including Annapolis, Maryland.
In areas where bus ridership is low, microtransit can potentially be more cost-effective, advocates say. Proponents also tout possible environmental benefits: if enough drivers opt for microtransit instead of driving their own cars, the result could be a net reduction in emissions.
But a number of experts, including Cirillo, are not convinced the math adds up. At least at present, microtransit services–such as the Annapolis Go service launched recently in the Maryland state capitol–aren't taking a big enough share of overall travel to make a significant difference where the climate is concerned. Current ridership levels, estimated at around 1,700 over two months for Annapolis Go, add up to "less than 1 percent of total vehicle rides in the city," noted Cirillo, a professor of civil and environmental engineering and associate chair for graduate studies.
Still, experts quoted by POLITICO say, microtransit could be worth exploring even if it isn't a climate-saver: besides providing convenience and improving quality of life, such services could make life easier for underserved residents who currently depend on buses, but have a hard time getting to bus stops or other transit centers. More details in the complete POLITICO story, available here.
An interdisciplinary research hub that brings together faculty from across the University of Maryland System, MTI is based in the UMD civil and environmental engineering department, and is part of the A. James Clark School of Engineering.
Published February 6, 2023