University of Maryland Links Drone and Robotic Boat in Communication Network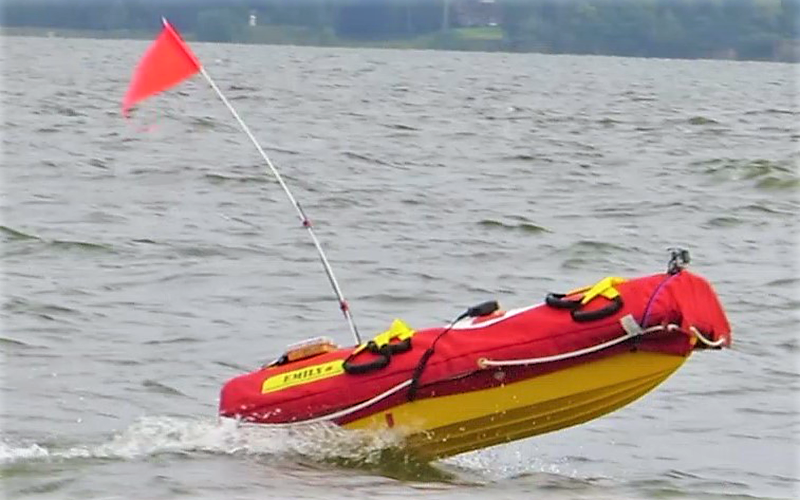 The vehicle flown in September's flight at Snow Hill Park in Mechanicsville, Maryland was nothing new for Ryan Henderson, the pilot at the University of Maryland Unmanned Aircraft System (UAS) Test Site, or the audience of naval and defense contractor staff. The crowd of roughly 12 were there instead to determine how well an experimental communications relay would perform under real-world conditions.
That afternoon, Henderson, UAS test engineer Josh Gaus, and project engineer Luan Duong successfully navigated a robotic boat almost a mile off shore using radio signals relayed from a Phoenix 60 vehicle soaring overhead. The same telecommunication link was also used to broadcast video from the boat and transmit audio from the team on the ground and a crew on the water.
For the naval engineers and project managers from Alion Science & Technology in attendance, the test was early evidence that a wireless mesh network powered by Silvus radios—a rich interconnection among devices capable of remaining stable even when individual nodes fail—could expand the communication reach of vessels and shore facilities used in naval operations.
"We have been looking for an opportunity such as this to demonstrate the realm of possibility on a small scale to initiate feedback from warfighters in harm's way," said Brian Wallace, program manager with the Naval Surface Warfare Center Panama City Division (NSWC PCD). "Our goal is to push technology such as this to other systems at greater distances."
Preparation for the September 20 test flight began in May, when NSWC PCD shipped their EMILY unmanned surface vessel to the test site's hangar in Southern Maryland. Built by the company Hydronalix for swift-water rescues, EMILY was a limited-use remote-controlled boat—until Gaus retrofitted it.
"We faced a lot of challenges with this integration because we needed to install complex electronics into what is effectively a tub of water," said Gaus. "The autopilot, for example, had to be placed in a waterproof container and connected to the Silvus radio using special wiring and connectors designed for immersion in saltwater."
The Snow Hill Park test is the latest in an array of operations designed to characterize the capabilities of UAS relay communications. The UAS Test Site has also partnered with the Naval Air Warfare Center Aircraft Division and Naval Warfare Center Indian Head Explosive Ordnance Disposal Technology Division to extend the distance between a bomb disposal robot and its operator by tens of miles.
"Aerial communication relay systems have the potential to redefine not only tactical operations but also civil operations such as humanitarian assistance and disaster response, which often occur where communication infrastructure is limited or has been damaged," said Tony Pucciarella, UAS Test Site director of operations. "Our extensive experience in system design and integration as well as testing and evaluation allows us to advance innovations in processes and technologies for these and other applications."
Published November 19, 2018