MTI Partners with State Highway Administration to Understand Trucker Parking Decisions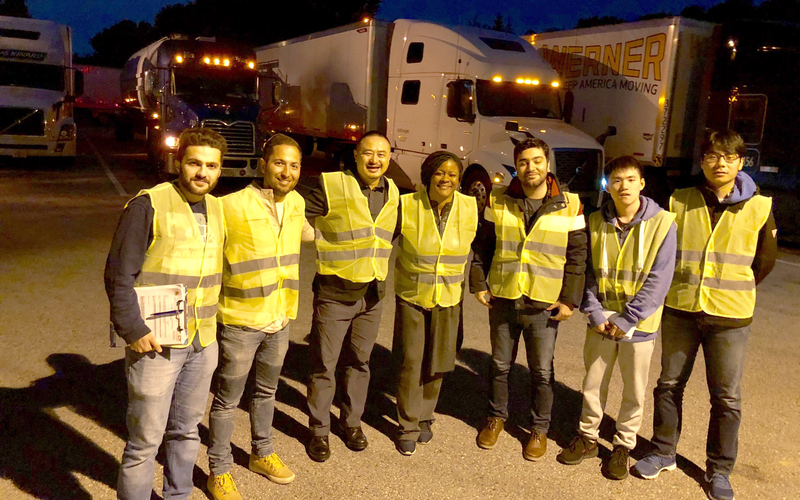 University of Maryland transportation engineering students spent an evening at the I-95 South Welcome Center in Savage, Maryland last month surveying long-haul truckers pulling in to the center's overnight parking area. It's part of a four-month study funded by the Maryland State Highway Administration to understand where truckers park and what factors they consider when choosing locations.
"When truckers encounter full overnight parking lots, they will often park alongside highway shoulders, ramps, or adjacent roads. Or they may decide to drive fatigued until they find a place to park legally," said Sepehr Ghader, a research scientist with the Maryland Transportation Institute (MTI). "Either scenario is dangerous for both the trucker and other motorists on the road."
Ghader and the rest of the project team spoke with truckers on October 16, asking them questions about their trip route, where they parked during the nights prior, what they look for when choosing a parking area, what they are shipping, and more. Before the project ends in December, the research team expects to conduct the survey at as many as 10 public and private overnight parking locations chosen with support from the Center for Geospatial Information Science, an MTI affiliate.
Survey results will be supplemented with GPS data collected by transportation analytics provider INRIX and the American Transportation Research Institute showing where and when trucks park over the course of a night. Together, the results will help state transportation officials better manage parking facilities across the state and reduce risks for highway motorists.
Published November 2, 2018